A little after noon today, Facebook announced on their blog that they will be allowing users to create facebook usernames to allow their friends, family, and co-workers to easily find their profiles on the social networking site.
According to the post, on Friday, June 12th at 9:01pm people will be able to create custom URLs directly to their Facebook page. For example, the current direct link to my page is http://www.facebook.com/profile.php?id=6801481, on June 12th I will be able to create a custom username for facebook. I will more than likely make my URL http://www.facebook.com/alex-becker/ or the like link directly to my Facebook profile. Here is an example of what users will see on June 12th when they login to FB: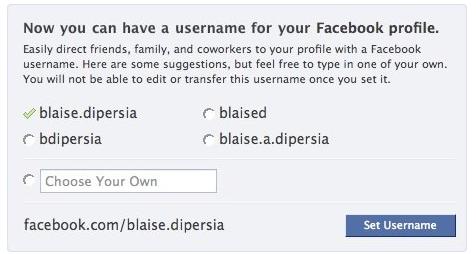 This was one of the only remaining strengths of MySpace, the top Facebook competitor and former Social Media Giant, in that users have been allowed to create direct links to their myspace pages. For example, my current myspace URL is as follows: http://myspace.com/beckshow
My question is that since we are now allowed to create custom facebook URLs can we go after keywords that are often times nearly impossible to rank for? If I create a facebook profile with a second email and create the following URL: http://www.facebook.com/diets/ am I going to have the ability to rank for diets? I think that this is an exciting time for Social Media Marketers such as myself – this could literally open up doors that were previously locked tight.
Update – 10-30-09
Yes, there is absolutely a ranking opportunity using facebook seo for ranking in google for search terms such as your name or your company name, however, this does not extend into high volume search phrases. For example, the person with the account facebook.com/seo will not rank on the first page for 'SEO', ever. So 4 months after I wrote this post there is evidence supporting that facebook search engine optimization works for branded search phrases.
Return to the Social Media Expert homepage.