It took 15 months, but Facebook is now killing it
On the eve before Facebook's IPO back in May of 2012, I commented on a blog post by Mark Cuban where he said, and I quote, "Facebook is the most important IPO to EVER hit the StockMarkets – But not for the reasons you think". My general thesis was that Facebook was an amazing company, and could very well one day become a $100 billion dollar company, but that they were not at the time and would see a pretty massive dip if they have such a large IPO.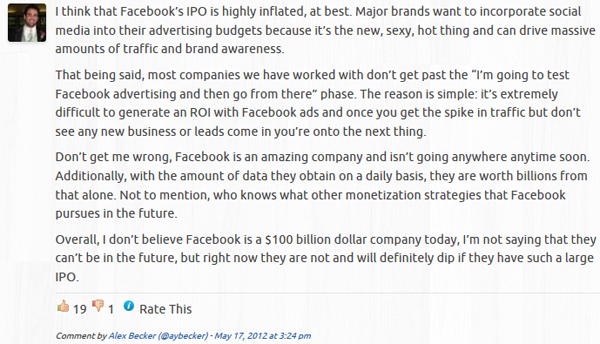 Looking back, we know the following:
Facebook's stock dropped pretty significantly (below $18 per share), lot's of people took big losses, including Mark Cuban
Facebook went from one of the worst mobile experiences to now one of the best in less than a year
Facebook is now killing it, trading at over $54 per share as of October 19, 2013 and has a market cap of over $132 billion
But when did this turnaround occur? I think it's pretty obvious that the catalyst of the turnaround came from the acquisition of Instagram as well as the acquisition and acqui-hire of many other strong mobile, but I knew that everything was officially "on track" when I read a Mobile Advertising Report by eMarketer that talked about Mobile Advertising leaders by revenue and market share, and I noticed that Facebook was the #2 largest Mobile advertising company behind Google. After seeing this, I decided to buy Facebook's stock when it was at a little under $25 per share, and my only complaint is I didn't buy more!

About Me

I have been involved in digital marketing since 2004 and have consulted with over 100 companies including Burger King, ScoreBig, ReachLocal, Hyundai and many more.
I help my clients by empowering them to improve three-fold:
First, I make them make more money from the traffic they already have through revenue and business optimizations.
Second, I help them convert the traffic they already have at the highest rates possible based upon their primary and secondary conversion goals.
Third, I drive incremental traffic to their website through a variety of sources, organic and paid.